Make the most of your digital investments with the leading ServiceNow consulting, support, and implementation service provider in Riyadh
Improve your IT, network and data center service operations with the company that is focused on making each of your workflows work.
Investing in the best workflow automation software doesn't guarantee a successful digital transformation. You need to have an equally dependable partner capable of understanding your pain points, recommending the most efficient solutions, guiding you throughout your company's implementation process, and ensuring that you are using your digital workflows to your advantage.
As one of the top ServiceNow consulting agencies in Saudi Arabia, we are committed to helping you achieve your digitalization objectives, delivering a seamless transformation, and generating the most value from your digital investments.
Tell us more about your specific business challenges and we'll guide you through your digitalization journey with our expert ServiceNow support, consulting, and implementation services.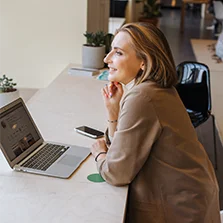 Making Milestones With Our Biggest Clients
We cannot wait to do the same with you!
"Like other enterprises, we once were concerned about mitigating risks and monitoring for compliance. But thanks to ServiceNow, we are more confident of our business continuity and resilience."
Real Estate Company in Saudi Arabia Unikomm client for ServiceNow ITSM, GRC, ITBM
Accelerate your digital transformation. Learn from our experts.
Take ahold of content made for IT practitioners who refuse to be left out.
Transform your Digital Aspirations Today. Get on a call with your dedicated Unikomm consultant.